Minimal Invasive Surgery and Diagnostic Endoscopy
pets, exotics and wild animals
Advantages of endoscopic surgery in veterinary medicine?

Short surgery time
At home the same day
No further treatments after surgery
Less pain
No collar
Optimal aesthetic result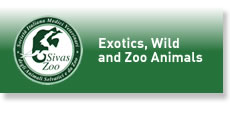 Dr. K. G. Friedrich
Tuesday and Thursday
18.00 - 20.00

Before any diagnostic intervention or surgery you will be asked to take your pet to a preliminary health check.
You should take with you all relevant blood analysis, X-Ray images and Ultrasound images, which could help to reduce cost and offer useful indications to the surgeon for diagnostic and surgical decisions.

During the visit of your pet the surgeon will discuss with you and the reffering vet the best options for your pet and preliminary laboratory analysis. Any indications to prepare the animal in the best way to surgery will be discussed with the owner in detail.
Day surgery is provided in a cosy environment at our surgery at an excellent
cost-performance ratio.
Furthermore, permanent contact with scientific advancements and research not only guaranties the newest operation techniques, but also the most successful ones.