Minimal Invasive Surgery and Diagnostic Endoscopy
pets, exotics and wild animals
Advantages of endoscopic surgery in veterinary medicine?

Short surgery time
At home the same day
No further treatments after surgery
Less pain
No collar
Optimal aesthetic result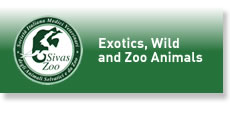 Minimal invasive surgery in veterinary medicine offers the possibility to visualize the internal organs of the animal using special instrumentation, without the generally large incisions of classical surgery.

This new technique used widely for years in people, today offers in veterinary medicine the possibility of good diagnostics and surgery as minimal invasive spaying and preventative surgery of the torsion of the stomach in susceptible large dog breeds.

The advantages of minimal invasive surgery are remarkable as surgery can be performed through two to three 5 mm entry points in the abdomen or the thorax (KEY HOLE SURGERY) and without the need of a large surgical incisions, complex operations can be performed efficently and in short time.

All this ensures a fast recovery after surgery and the pet is at home the same day.

Diagnostic endoscopy offers the possibility to the surgeon, using flexible scopes to evaluate deepley the gastro-intestinal tract by gastroscopy and coloscopy and further the airways by bronchoscopy.
Furthermore with this technique high quality organ biopsies and removal of foreign bodies from the body cavities can be performed.
Day surgery is provided in a cosy environment at our surgery at an excellent
cost-performance ratio.
Furthermore, permanent contact with scientific advancements and research not only guaranties the newest operation techniques, but also the most successful ones.